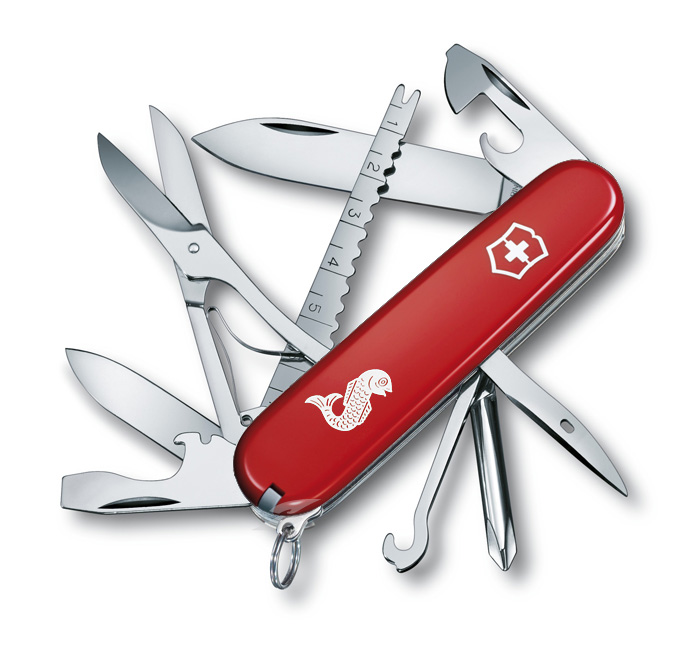 Further Information:
18 Features (Standard model)
20 Features (Ultra model)
Availability & Delivery Information:
In Stock
- Dispatched same day (order by 12pm)
Free Delivery:
is available on this item
Next Day Delivery:
To receive this item next day, place your order by 12pm and choose Express Delivery at checkout (Mon-Fri only)
Get 2 extra features when you upgrade
to the Ultra Fisherman Red
The standard Fisherman Red can fit:
1.Toothpick and 2.Tweezers in the handle.
The Ultra Fisherman Red has:
1.Toothpick, 2.Tweezers, 3.Ballpoint Pen and 4.Stainless Steel Pin.*
* Stainless Steel Pin fits into handle underneath Philips Screwdriver.
Features:
Can Opener
Small Screwdriver
Large Blade
Fish Scaler
Hook Disgorger
Ruler (cm / in)
Scissors
Small Blade
Bottle Opener
Large Screwdriver
Wire Stripper
Reamer
Sewing Eye
Philips Screwdriver
Multipurpose Hook
Keyring
Standard Accessories:
Ultra Accessories:
Toothpick
Tweezers
Ballpoint Pen
Stainless Steel Pin
Personalisation Advice:
If you choose to personalise this item on the front you will lose the "Fish" emblem. To keep the emblem, personalise the back only.
To Personalise this item: Add it to your cart then follow the link that appears
For questions or to order by phone
If you need advice before purchasing or prefer to order by phone please call us on:02380 52 82 57(Mon - Fri, 10am - 6pm) or email us outside hours.